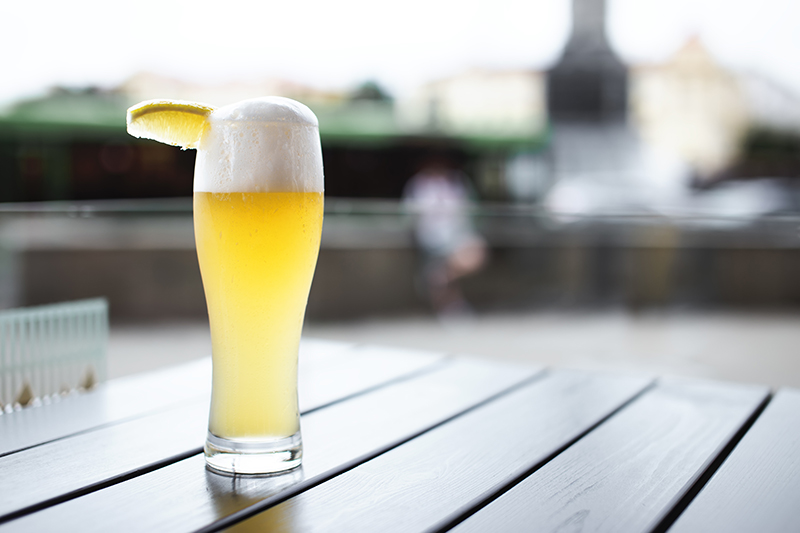 Ingredients
12 ounces beer (light beer, ale, or lager; avoid dark beer and stouts)
1 ounce Lemon Zest-infused Keep It Simple Syrup
2 ounces sparkling mineral water
Directions
1Pour Lemon Zest KISS, sparkling water, and fresh lemon juice into a tall glass and stir.
2Transfer this mixture to a tall beer glass, and fill to top with bottled beer.
3Garnish with lemon slice.
German-inspired Shandies are made by blending beer with carbonated beverages. The "Radler" (Greman for "cyclist") is a specific type of Shandy, a combination of beer and sparkling lemonade. While typically blended in a 1:1 ratio, the proportions of both ingredients may be adjusted to taste. Folklore connects the Radler with a German Innkeeper who needed to serve a large group of cyclists. Without enough beer to satisfy the crowd, he added sparkling lemonade.
Start by making your own sparkling your own sparkling lemonade. Mix one 375ml bottle of Lemon Zest Keep It Simple Syrup with a 750ml bottle of sparkling mineral water (such as San Pellegrino or Perrier). Enjoy this on its own, or by blending it with a light beer to taste.
0 Reviews