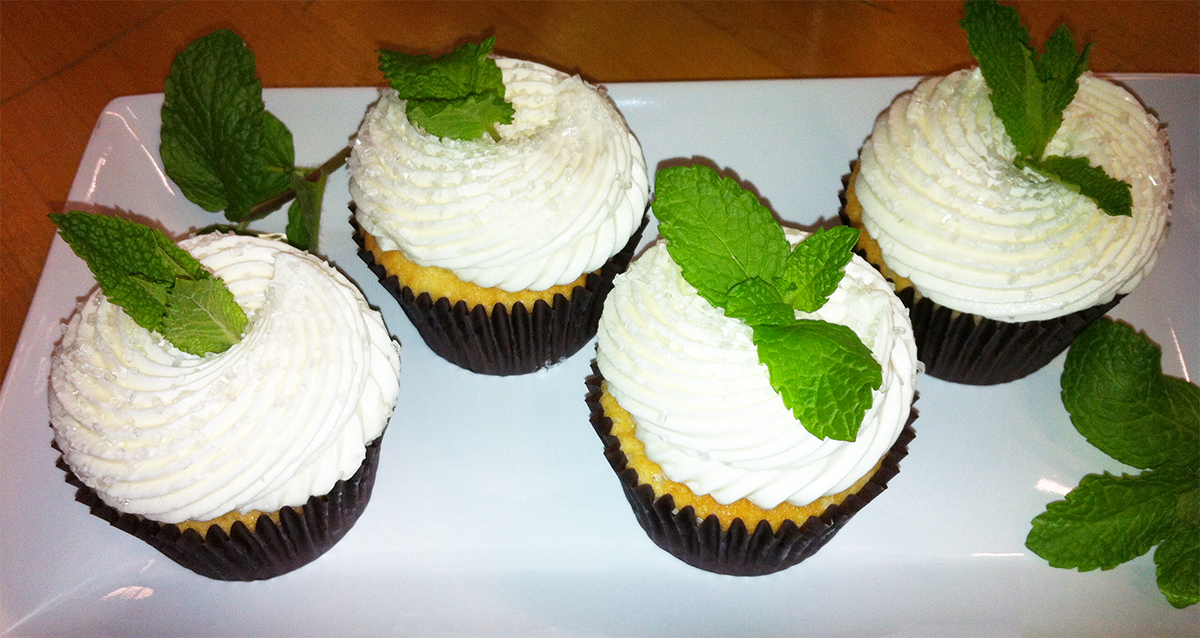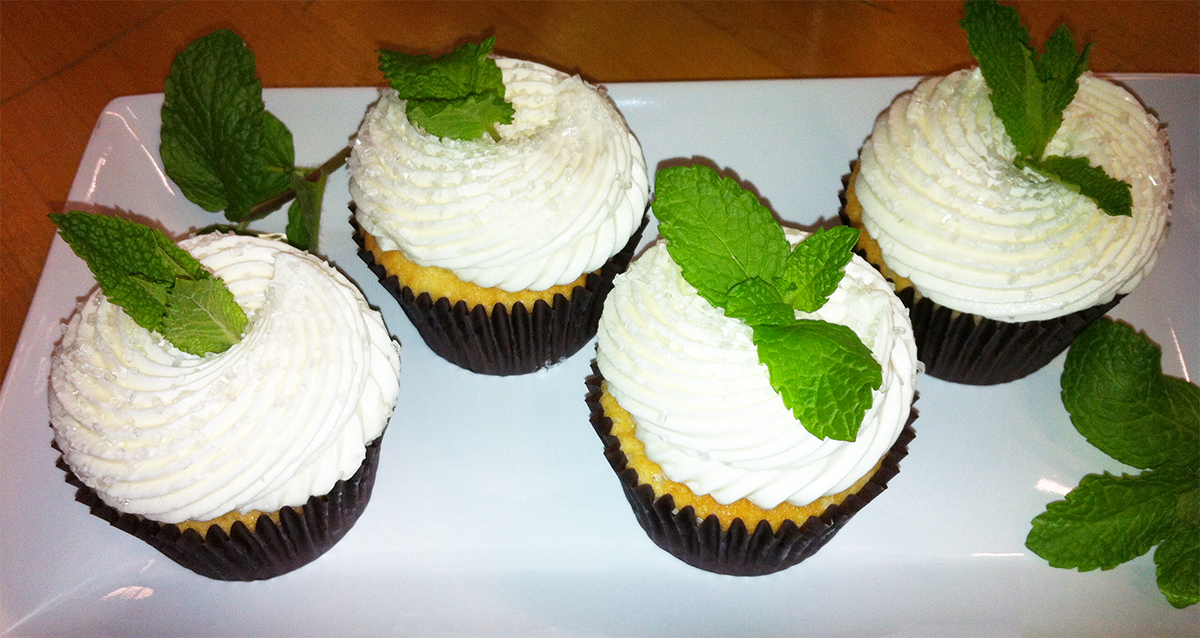 Mint Julep Cupcakes
Desserts Spearmint Cold/Room Temperature
April 2, 2016
Vanilla cupcakes with Bourbon cream filling and Spearmint-kissed butter cream icing. Serve these at your Derby Party, or enjoy a taste of Spring, year-round!
Ingredients
Spearmint-kissed butter cream icing
1 cup (2 sticks) unsalted butter, softened
3 – 4 cups 10x (powdered) sugar, sifted
2 tablespoons Spearmint Keep It Simple Syrup®
2 – 3 tablespoons milk or heavy cream
Bourbon cream filling
Directions
Spearmint-kissed butter cream icing
1Beat butter with a mixer on medium speed for a few minutes until light and fluffy. Turn your mixer to the lowest speed (to avoid a mess!) and gradually add 3 cups of powdered sugar until it has been fully incorporated into the butter. Increase mixer speed to medium and add KISS, salt, and 2 tablespoons of the milk (or cream) and beat for another 3 minutes. If your frosting needs a more stiff consistency, add remaining sugar. If your frosting needs to be thinned out, add remaining milk 1 tablespoons at a time.
Bourbon cream filling
1In a 2 quart saucepan, combine 1/3 cup sugar, cornstarch, & salt. Slowly stir in milk. Bring to a boil, and cook, stirring constantly, over medium heat until mixture thickens. Cook for additional 2 to 3 minutes. Remove from heat. Stir in bourbon.
2Pour into shallow pan. Cover with plastic film placed directly in contact with the surface of the cream to prevent a skin from forming. Cool and chill as quickly as possible.
Assembly
1Bake vanilla cupcakes using your recipe of choice; let cool completely.
2Prepare the bourbon filling; cool and chill thoroughly.
3Spoon the filling into a pastry bag attached with a long narrow tip. Insert the tip through the top of each cupcake to a depth of about one inch and dispense ~1 teaspoon. Do not overfill!
4Prepare the icing and use it to fill another pastry bag attached with a wide star tip. Frost the tops of each cupcake with a decorative swirl.
5Sprinkle with clear course sugar, & garnish with fresh mint just before serving. (Cold mint will wilt!)
0 Reviews