KISS Rated "Exceptional"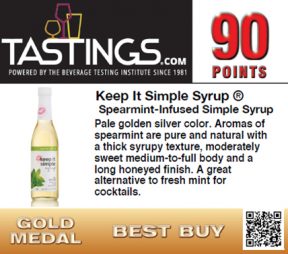 Keep It Simple Syrup received a 90 point rating, Gold medal, and "Best Buy" Award by the venerable Beverage Testing Institute, the rating authority serving the drinks industry and consumers since 1981.
Every year the judges at the Tastings – The Beverage Testing Institute survey the landscape of wines, spirits, and cocktail mixers in hopes of finding brands that deliver taste and quality beyond their modest price points. On January 2nd, they released the winners in the "2014 Other: Cocktail Mixer" category, and KISS took home the top prize!